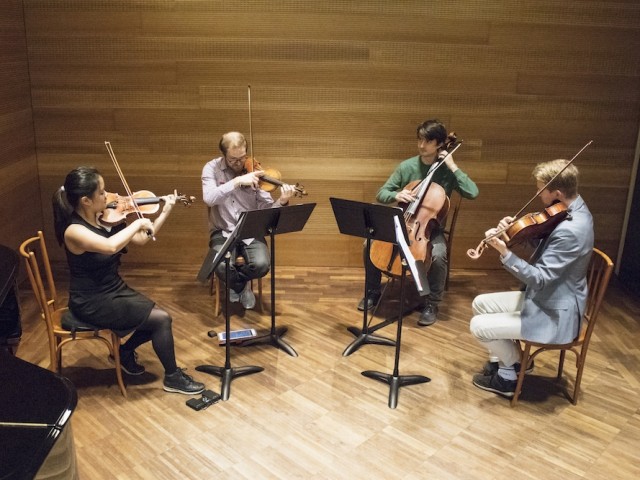 V4 String Quartet
2021-2022
The V4 String Quartet is a unique collaboration of musicians from all four of the V4 countries. The quartet focuses on collaborations between remarkable artists and composers of Hungary, Poland Slovakia and the Czech Republic, spotlighting the music of the past and present at renowned festivals of the region and throughout Europe. The quartet's goal is to create cultural enrichment in the V4 countries and to showcase the musicians and composers of the V4 countries to other European countries during the V4 anniversary year of 2021, and in 2022. While incorporating the cultural traditions of each V4 country's music, the V4 String Quartet is establishing new ways to use music to create a compassionate society and to make high culture accessible to everyone.
Miranda Liu is Hungary's youngest concertmaster (Concerto Budapest), the 1st Violinist of the Central European String Quartet, and is a regular guest as a soloist and chamber musician at festivals worldwide. Daniel Rumler is a Slovakian violinist, member of the Slovak Philharmonic and reguler performer of Camerata Zürich and Ensemble Corund Luzern. Czech violist Tomáš Krejbich in addition to his active concert activities with Sedláček Quartet, he is the member of Prague Symphony Orchestra FOK. Polish cellist Bartosz Koziak is one of the most sought-after musicians. He holds special prizes of the coveted International Tchaikovsky Competition in Moscow and Munich's ARD competition.
Partners:
Our project is supported by Visegrád Fund.